1985 Interstate Ignition Question
Tulie Mark
Junior Member


Posts: 2
Joined: Jul 2012 Location: Bike:
First post here ... long time wing owner in Southern New Mexico:
Perplexing problem with 1985 Interstate. Starts easy enough and seems to run fine at higher RPMs but idles rough when cool and smooths out
some
once fully warmed up. Carbs have been cleaned and balanced. Spark plugs replaced (less than 100 miles). Did the spark check and get a very weak, orange spark on all four plugs. Have checked the coils and high tension leads with digital and analog VOM and they are within spec. Checked the pulse generators and found they read 450 - 500 ohms (at connector next to air cleaner) whereas spec is 1100 to 1300 ohms per Haynes Manual.
Question ... are the pulse generators shot or is there something I am overlooking?
Any advice appreciated.
Tulie Mark
Tularosa, New Mexico
1976 R75/6
1985 GL1200I
1992 Yamaha XT350B
2009 Suzuki DL650K9
Granpah
Expert


Posts: 922
Joined: Jun 2009 Location: St. Louis, MO Bike: 1985 Aspencade (tan/brown)
Hi and welcome to a terrific GL1200 site.

'Sounds like most of your checks are electronic (other than timing) ... and came out O.K. How's the compression in each cylinder? If one or more cylinders are not producing the right compression you'll get misfiring. Since you've covered most other possibilities why not do a compression test?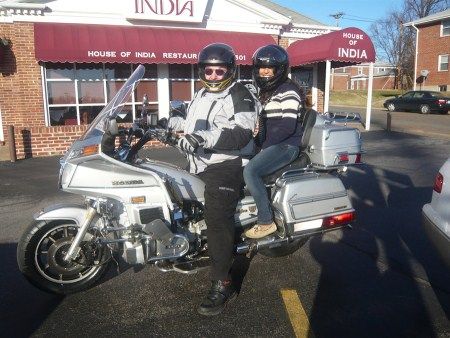 " ... If you have an idea and I have an idea and we exchange these ideas, then each of us will have two ideas." ~ George Bernard Shaw (1856-1950)
neoracer
Super Moderator


Posts: 2,570
Joined: Jul 2007 Location: Hancock,MD Bike: 87 Aspy,86 SEI,85 LTD
i have found that the ngk caps are notorious for reading "correct" but actually misfire at low speed but above 2500 or so seem fine,i have replaced the wiring on both mu bikes with Taylor Spiro-Pro wires several years ago which eliminates the caps,rubber dust covers and replaces the old wires too,no radio interference either,a little pricy if you have only one bike but maybe you can split the cost with another 1200/1100 rider,no problems in rain either,have approximately 40k+ on bikes since replacement w/o any problems
<!-- m --><a class="postlink" href="http://www.summitracing.com/parts/TAY-73253/?rtype=10">http://www.summitracing.com/parts/TAY-73253/?rtype=10</a><!-- m --> (pic #2 is what you get)
<!-- m --><a class="postlink" href="http://static.summitracing.com/global/images/prod/large/tay-73253.jpg">http://static.summitracing.com/global/i ... -73253.jpg</a><!-- m -->
1987 Aspencade 129K
1986 SEI 93K
2014 Tri-Glide HD 17K

Hancock,MD
Users browsing this thread: 2 Guest(s)