Cheap fuel filter.....where can I buy??
harkgold
Junior Member


Posts: 1
Joined: Nov 2011 Location: Bike:
Where can I go to purchase a new fuel filter for my '84 GL1200 Interstate without paying an arm and a leg?
I contacted my local Honda dealer and they said they have an OEM filter in stock and it will cost me $28.06.
I thought......
GIVE ME A BREAK......NEARLY THIRTY BUCKS FOR A STINKIN FUEL FILTER!!!!!!!!
Secondly, do I have to use an OEM filter? Could I not just use any quality aftermarket in-line filter as long as it is similar in size and of good quality?
Thanks for your help!
Harkgold :-L
SIR tricky
WISE AND HELPFUL MODERATOR


Posts: 4,305
Joined: Dec 2006 Location: Waterford, Ontario Bike: 1985 Aspencade, Satellite Blue
Fuel Filter

Napa 3011


About $3+ in US $7+tax CAN
The only stupid questions are the one's that are not asked.


Granpah
Expert


Posts: 922
Joined: Jun 2009 Location: St. Louis, MO Bike: 1985 Aspencade (tan/brown)
Elegant GLASS fuel filter needs a little tweaking.
Earlier this year, I bought a
glass fuel filter
which sell for between $6 and $12.

Earlier there was a discussion here of fuel filters. The conventional plastic filters are not very good ... and dissecting them after taken out of service shows how poorly made and ineffective many of them are. Of course, an efficient filter is important for allowing a smooth flow of fuel from the gas tank through the fuel pump and into the carburetor (or injectors). I am very happy with my glass filter which after slightly modifying the inconvenient bracket next to and under the fuel tank hasn't budged since I installed it many months ago.
Changing the fuel filter can be done without taking the whole bike apart but is a little tricky because the mounting is located at a difficult to get at (at least for me) place: in middle of the forward part of the fuel tank, behind cables and tubing on both sides. Before replacing the old fuel filter, I found it convenient to replace the old fuel lines with shiny new stainless steel-covered lines. It costs about
$20 for 3 ft (~ 30 cm) of new braided stainless steel tubing
. of
[Don't forget to
FIRST
turn the fuel spigot to the
OFF
position
before
removing the lines ... and try to catch the several ounces/mL of fuel in the line ... best done
outdoors
! ! !
:-SS :-SS :-SS
hock: ]
Bikes have been known to catch on fire • • • but maybe that only happens in
India
or
Norway
. :d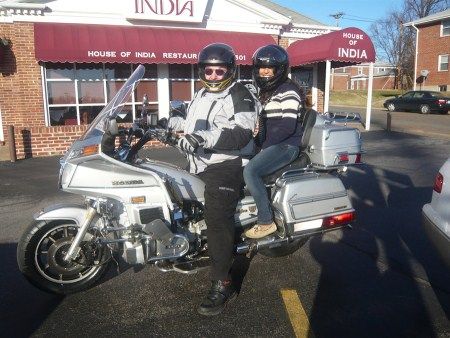 " ... If you have an idea and I have an idea and we exchange these ideas, then each of us will have two ideas." ~ George Bernard Shaw (1856-1950)
Users browsing this thread: 1 Guest(s)