My LTD lives again-after 15 years and lots of rust!!!
dwitgoldwing
Member


Posts: 117
Joined: Sep 2007 Location: Bike:
Hey, Fellow GL1200 friends.... I am SO excited!!! Yesterday afternoon at 5:18 EST I started my 1985 LTD for the first time.
This is quite a big deal since I just found out that the bike had been sitting unused for about 15 years.
I feel very fortunate to not have any more major issues that dealing with replacing the tank, installing an Airtex E8000 fuel pump and cleaning all the lines and fitting from lots of rust. It has been a long haul, but my baby runs again!!!
I feel really fortunate to have an LTD with only 13000+ miles. It will be nice to take some long rides very soon-I ride year round.

I am currently switching my Pearl HotRod yellow body parts from my other bike and changing out timing belts, hoses,
tires, etc. and trying to have all of this done before 10/31/11 so I will post better pics when I get a chance, (this pic was a screen capture of the movie I made on my iPhone).

Yay Me!!!

Go Goldwing!!!
GL1200 forever!!!
Best Wishes, Don W., Winchester, KY
clancyp
Member


Posts: 205
Joined: May 2010 Location: Arizona/Montana Bike: 1987 interstate
AWESOME ENJOY IT AND BE SAFE
87 Interstate
Can't wait till my next ride !!!!
Roleketu
Expert


Posts: 877
Joined: Nov 2009 Location: Bike:
Wheeeeee, cool beans! You'll love riding it.
Philroy
Member


Posts: 29
Joined: Jul 2011 Location: Knoxville, Iowa Bike: 1985 LTD
Congatulations!
I'm in the middle of a similar project, a 1985 LTD that had been sitting for 11 years. I cleaned the talk, got a new fuel pump and had it running, but ultimately had to get a different tank. Other projects, and not cold weather ahve got me side tracked. BUt I vow to having all ready for next spring!
Enjoy your new ride! 8)
Granpah
Expert


Posts: 922
Joined: Jun 2009 Location: St. Louis, MO Bike: 1985 Aspencade (tan/brown)
CONGARATS !
Truly, I admire your and Philroy's determination and salute your accomplishments. In this day and age, to restore and preserve something as elaborate as the Honda GL1200 is a significant contribution to protecting the environment. :YMAPPLAUSE: :YMAPPLAUSE: :YMAPPLAUSE: :YMAPPLAUSE: :YMAPPLAUSE: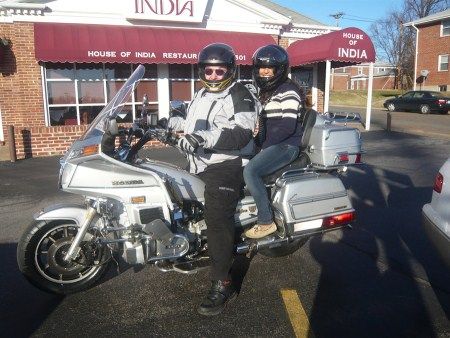 " ... If you have an idea and I have an idea and we exchange these ideas, then each of us will have two ideas." ~ George Bernard Shaw (1856-1950)
dwitgoldwing
Member


Posts: 117
Joined: Sep 2007 Location: Bike:
My fiance and I rode my LTD yesterday 162 miles. Talk about a great time... Amazing how much better the 1200 engine works with FUEL INJECTION!!!! I have a huge smile on my face every time I ride my LTD. WOW is all I can say!!! It's a shame they
didn't produce more of the injected 1200s. Compared to my other bike, (well, there is no comparison)....the LTD is better in every way, (except the paint job
- I painted mine Pearl Yellow...
I love being able to tweak the suspension while riding. I love the extra little things they put on the LTD.
The trip computer is a nice thing to have. I wish my LTD got better gas mileage, (averaging about 35 mpg), but
the performance is just, GREAT!!!!
Yay Me!!!
Sorry, guys.... please remember I've been fighting carburetor issues with my other 1200 for 7 years. It's a shame the solution was just to buy another bike. Still going to get my '86 sorted out over the winter and then sell it in the spring. I have to finance my trike kit for the LTD.
Don W.
joe turner
Member


Posts: 223
Joined: Jun 2007 Location: Cave City Kentucky Bike: 1985 I silver
Don its great that you have a bike too ride !
joe
firstwing85
Super Moderator


Posts: 397
Joined: Apr 2011 Location: Aldergrove BC Bike: 85 LTD Edition
Hello Don.
I was out on mine today too, put on about 100 miles I also love my ltd.
my factory exhaust was rotting out on one pipe and I just couldn't find another one with the curved tips,
so I put on the Mac aftermarket exhaust and I get about 37 to 39 Mpg/US so not much different.
but I am not complaining about my bike, I love riding it and now that I have it all fixed it just makes me smile every time I get a chance to go for a ride.
I also love my LTD and I have no desire to replace it anytime soon..
Johan
Users browsing this thread: 1 Guest(s)