Help with decision to buy
BlueKnightFL
Member


Posts: 4
Joined: Jul 2011 Location: Bike:
I am new to forums in general and new to this one. I joined because I wanted to find out if buying a GL1200 is a good idea. I love the look of it more than the new ones. I have always been told they are rock solid and bullet proof. If I can find one in decent shape, could it stand a cross country trip from Saint Cloud Florida to Washington state and back? I currently ride a 2000 Suzuki VL 1500 LC Intruder with 21K on it. My friends think I'm crazy to give up an 11 year old bike for one 30. You guys are the experts...your thoughts? Thanks in advance.
Amaury Murgado
MSG, USAR RET
bluewing
Super Moderator


Posts: 2,709
Joined: Jan 2007 Location: Bike:
Welcome to the site from Baltimore Ontario.
Most of the members on this site have had many different bikes and still love their GL1200s, I am one of them. I think that my 1200 is the best all around bike that I have ever had. I would not hesitate to take my 1200 on any trip, I feel very confident that it would get me there and back with little or no problems.
They are 30 year old bikes and need proper maintenance, but if you look after her she will look after you. This site makes it very easy to do any kind of work on your 1200 as the members are very knowledgeable and willing to help with any problem. If you don't mind doing work on your bike I think that the 1200 can't be beat as on of the best bikes ever made..
Ride safe have fun and enjoy. Lane
1985 Aspencade
2002 Vulcan
staijo
Member


Posts: 90
Joined: May 2008 Location: Bike:
Many of us have several bikes, you should be able to pick a Goldwing in good shape for $2000 to $3000 US. Note, you will probably spend several hundred dollars on any GL1200 you buy to get it shape. Most people who are selling them are doing so because they did not keep them up. A well kept up bike will usually set you back $3000 to $4000.

These things are a labor of love. And they run GREAT. The only time I have been left on the side of the road on one is the started solinoid connector(and there are many post about re-wiring them & the dog bone fuse. So that's my fault for not going ahead and doing it) And the stator went out. And a Poor Boy conversion made that a non issue... BTW I was able to rig the solinoid in a little town in SC and ride back to Atlanta where I could make the permenent fix.

That's what's great about these things. You can get one fairly cheap. Play around with fixing it up. And if you find out you really don't like it(I've never actually found such a person) you can always get most of your money back out of it...

BTW, the PO took mine to Sturgis several times. Personally I rode mine from Atlanta Ga to Johnson City TN and back this past weekend. I even took the senic route(blue ridge pkwy) on the way back. I ride some places where you might see one or two other cars a day, and never think twice about it...

They are just great bikes...
Keener
Super Moderator


Posts: 1,143
Joined: Dec 2008 Location: Calgary, AB, Canada Bike: 1984 Aspencade
As the others have noted, and as my Dad used to tell me, you look after your equipment and it will look after you.

Our 'Wing is 27 years old and has only let us down once. That was when the stator went about 400 miles from home. Other than that, she'd take us anywhere.
Ian
Remember, it's the journey, not the destination, that matters
.
neoracer
Super Moderator


Posts: 2,570
Joined: Jul 2007 Location: Hancock,MD Bike: 87 Aspy,86 SEI,85 LTD
after normal replacements of brakes,tires and belts and upgrading the electrical connectors (stator,rectifier and solenoid) only thing i'd feel unsafe about is the stator,upgrade to the "poorboy" and you'll be sure that the only thing you'll need is the money and the time to make the trip

welcome to the forum from mid md/pa area
1987 Aspencade 129K
1986 SEI 93K
2014 Tri-Glide HD 17K

Hancock,MD
BlueKnightFL
Member


Posts: 4
Joined: Jul 2011 Location: Bike:
Thanks...I live in Saint Cloud Florida. My wife, who has Lupus, is the motivation behind our long trip. She is tired of the labels and limitations people place on her. At one point we had sold her bike as she said she was done motorcycling. Not because she wanted to but felt she could ride solo anymore. We then found a trike kit made custom here in town, so she sold her car, we bought Honda VTX1300 and I can't get her off of it. We keep going farther and longer and building up our experience. I am drawn to the older type Goldwing. There is gentleman that works for our Home Depot and parks his Black GL1200 in front of the store. Its just breath taking and looks like its brand new. I was hooked. I appreciate the support and information. It is giving me more confidence to try and find one. GL1500s are rare in my area and so much more expensive. They also don't have the same look. But time will tell. Again, thanks for the kind words and help.
Amaury Murgado
MSG, USAR RET
firstwing85
Super Moderator


Posts: 397
Joined: Apr 2011 Location: Aldergrove BC Bike: 85 LTD Edition
I had an interesting experience a few weeks ago, Deb and I were on a ride to our friends in Washington and we met in Lyndon at a little coffee house,
a couple walked by and then gentleman said "what a beautifl bike, best bikes ever made and most reliable"
our friend Dave said that was a friend of his and and has been a honda mechanic for about 30 years..

it felt good to hear that kind of coment especially since I only bought my first wing this spring..

good luck in finding a good one,
and I'm sure you'll love it as much as the rest of us here do.. :YMAPPLAUSE: :YMAPPLAUSE:
Johan
Roleketu
Expert


Posts: 877
Joined: Nov 2009 Location: Bike:
I'm on my third season with my GL1200. With the help from this site I've upgraded most issues these Wing's need. A few already mentioned Poorboy's external alternator conversion. And that's the one upgrade you should do before going cross country. I wouldn't hesitate to ride my Wing cross country today if I had the time off.
Sgt Dave
Senior Member


Posts: 353
Joined: Jan 2007 Location: Canton Georgia USA Bike: 1984 Interstate, Pearl Siren Blue
BlueKnightFL;
I got my '84 Interstate from my Dad when he bought an 1800 in 2001.
Since then we have ridden in all the lower 48 states together. Only once has she left me stranded, 20 miles from home, when the fuel pump went out.
I have over 200K miles on her and would not hesitate to ride across country today.
As long as the basic maintenance is kept up these 1200's will run forever.
I have passed up a couple of oppertunities to "upgrade", I just love my 1200 that much.
Good luck in your search for a 1200.
Remember, No matter where you go...There you are!
Here is where I have ridden my 1984 GL1200I
I completed the lower 48 states in August 2009, riding the whole way with my Dad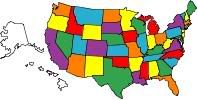 BlueKnightFL
Member


Posts: 4
Joined: Jul 2011 Location: Bike:
Good to hear. I have heard stories of people upgrading to a newer wing and then going back to the 1200. I am hopeful that I can find something. Right now, I just need the right combination. My ideal situation is someone willing to barter for a rifle, handgun and possible some cash. Among others, I have a Savage 30-06 w/scope/bi-pod (only fired for zero), and a Colt Commander to throw in the mix. I'm not ready to sell my 2000 Suzuiki Intruder Vl 1500 LC just yet. I'm sure when I find the right one, I figure a way to make it happen. I had someone interested on bartering on a GL1100 but in today's economy, cash talks so I lost out. Again, fully understandable. Thanks for your input, its really helping.
Amaury Murgado
MSG, USAR RET
#10 07-20-2011, 02:46 PM,
wingandaprayer
Senior Member


Posts: 699
Joined: Sep 2008 Location: Bike:
Disclaimer: this forum is "Expert's Corner" - I are not one.

I have this theory - GL1200's were manufactured in "The Time Before Controllers" - so they were designed and built by motorcycle people to the old way - with the quality of the end product in sight rather than maximum short term return to shareholders and exec bonuses (oops I might have that backwards) i.e. how cheap can we make it, sell it with glitzy social media advertising, and maximize, then move on to The Next Big Thing. "Sorry you have to wait 6 weeks for a part for your 2 year old machine don't you know what it costs to stock parts??"

So they are expensive-when-new machines built with good materials and workmanship and designed to run indefinitely with normal mainentance, and when something needs repair they are made to be taken apart and overhauled and ridden some more.

Theory 2 - don't buy any motorcycle you want to ride that does not start and run. :d

Theory 3 - look for a machine that has maintenance/owner records. These bikes were top shelf when they were new and most owners looked after them. A first or second owner bike might be the best buy.

And enjoy the experience - you have a bike to ride so there is no rush...
#11 07-21-2011, 05:12 AM,
BlueKnightFL
Member


Posts: 4
Joined: Jul 2011 Location: Bike:
For not being an expert you have uncanny wisdom. I never thought about it that way; the old school quality angle. I know that the Gl1100 and 1200 were marvels of their time. More car engine than motorcycle engine but then again, it was a group of Honda car engineers that developed it (so I have read). You are also correct in that since I have a ride, I am in no hurry. My 2000 Intruder is very clean and was garage fed by one owner. I took it apart (in a sense) and cleaned all the electrical contacts and when I pulled them apart they looked brand new. That me me feel a lot better about the bike. I am sure that the right Goldwing at the right price/deal will present itself. I have been in contact wit a few dealers and have decided to ditch that effort. They are far beyond Blue Book or NADA values and are ridiculous. One listed the bike as being in fair condition and wanted seven times the suggested value! I have come across them in Central Florida in ranges of $1500 to $3000 in good to very good condition. Its out there and I am sure one has my name on it. Thanks for the advice.
Amaury Murgado
MSG, USAR RET
#12 07-21-2011, 05:33 AM,
Users browsing this thread: 2 Guest(s)