CHANGING FUEL FILTER: Question of type + Safety Warning
Okey Dokey................ I took a look and here is my solution to getting the filter out where it can be changed easily. there is room there without a problem. Just need an extra bit of hose to route around. A nice set of engine covers would hide it nicely.
#16 07-14-2011, 07:05 PM,
Granpah
Expert


Posts: 922
Joined: Jun 2009 Location: St. Louis, MO Bike: 1985 Aspencade (tan/brown)
Well Bill,

Convenience wise that looks like a much better location. But isn't that about 12" (36 cm) higher than the original location of the filter holding bracket that's about midway down the middle of the gas tank, (maybe even above the level of the spigot)? Wouldn't there be a chance for fuel back flow from the filter into the tank and air/vapor lock developing in the fuel line? What do I know? :-\

I'd like to see someone try it and then report back on how it worked. As noted above, I jury-rigged with a bit of epoxy resin the filter bracket to where it was originally. So far that seems to be working -- but don't recommend it. Maybe I should have been more persistent, find the flanged nut, and tough it out until I had it together the way it was originally.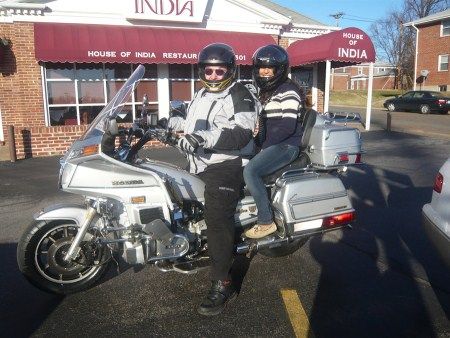 " ... If you have an idea and I have an idea and we exchange these ideas, then each of us will have two ideas." ~ George Bernard Shaw (1856-1950)
#17 07-14-2011, 08:27 PM,
SIR tricky
WISE AND HELPFUL MODERATOR


Posts: 4,305
Joined: Dec 2006 Location: Waterford, Ontario Bike: 1985 Aspencade, Satellite Blue
I had a bike come in with the bolt broken on the filter clip, I drilled the bolt out and used an Allen bolt fed from the left side, I dont have any problems accessing the nut using a little Vaseline on the socket on the nut. I like those Honda nuts that have the lip on to prevent the nut from disappearing into the deep sockets when trying to install them.
The only stupid questions are the one's that are not asked.


#18 07-15-2011, 05:14 AM,
Hi Granpah. Yes, it's higher, but it could be mounted under the triangle bracket there just as well as above. In any case, there is no need to worry about back flow. the fuel pump will keep everything going in the proper direction. I took a look at some of my vehicles and found filters is all sorts of different places. On the GMC Jimmy it's mounted on the frame about 14" above the tank. On the F-150 it's mounted inside the throttle body, etc. I really don't think the location is a major problem as long as it's in the same general area.

In fact there seems to be enough room to mount in in any of the 3 location shown here. There are probably other spots as well, this just happened to be the first place i looked.
#19 07-15-2011, 07:20 AM,
Possibly Related Threads…
Thread
Author
Replies
Views
Last Post
GL1200 LTD - With EFI - Fuel Filter
BikerNewsman
17
8,068
08-13-2012, 08:34 PM
Last Post: BikerNewsman
Fuel Filter For 1985 GL1200 LTD w/ CFI
BikerNewsman
8
4,462
02-23-2012, 09:32 PM
Last Post: BikerNewsman
1200 ltd main fuel filter
bumblebee
8
4,461
12-28-2011, 11:32 AM
Last Post: Granpah
replacement fuel filter
12
5,764
08-17-2010, 09:31 AM
Last Post: neoracer
Fuel Filter 85 LTD
al smith
6
2,694
09-15-2008, 08:01 PM
Last Post: Guest
fuel filter???
mundsgoldwing
10
3,969
01-18-2008, 01:00 PM
Last Post: admin
Users browsing this thread: 4 Guest(s)