roadawg
Senior Member


Posts: 295
Joined: Jan 2007 Location: Bike:
putting the limited edition exhaust on an 85 aspencade , it was quite a struggle to get the headers, exhaust and crash bars to go on and lined up at the same time, but it was worth it, the long pipes that will now come out behind the bags instead of stopping half way. which is why I don't understand why mother honda didn't put the long pipes on all their wings instead of just the limited edition, guess it's to late to complain now, I'll just enjoy my new long pipes. 8)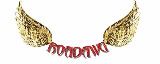 admin
Administrator


Posts: 7,880
Joined: Jan 2006 Location: Leamington, Ontario Bike: 1984 Aspencade/yellow with black trim
The stock tailpipes almost seem like they were forgotten at the factory. Glad to see that you got the longer ones installed.
Ed (Vic) Belanger - 1954-2015
Founder of gl1200goldwings.com


Users browsing this thread: 1 Guest(s)