New here and dual Holley carb question
First off I am new here just found the site while researching a dual holley conversion I am planning.

Secondly the dual holley conversion, I have done a forum search and seen a few post where people talked about it but no one had actually completed one yet. Has anyone completed one yet? My plan is to use two 500cfm 2bbls mounted outside the "tank" just above the heads much like Randakks Weber setup with each runner drawing from one venturi of the carb while maintaining the approximate length of the stock runners. Does anyone have any input on this?
First of all, congrats and welcome here. The Holley idea is great, because the prices for IDF webers are very high. What throttle diameter do the holleys have? I think the only disadvantage is that the holleys are not so easy to rejet and to adjust, but all the predictions are just estimations. You simply must try it. I have tried a lot of carbs, with various results. As a summary I can say: For single carb setups the runner length is a problem. The sharp cams of GLs create a very weak vacuum signal, that is why normal idle circuits fail. Randakks setup has overcome this problem by very short runners, the vacuum is strong enough to draw fuel from the idle circuit AND evaporate it.
Another thing is icing. Randakk-style setups won't ice up normally, because enough heat comes up from the heads. Single carb setups need a water pipe or oil pipe to heat the plenum.
One of my plans for the future is to let a cam grinder alter my cams to reduced peak hp (to about 50 which is enough for me) and improved torque and strong vacuum. Then the engine will easily accept most automotive carbs.
But if You want to keep the hp or even improve it, EFI is the way to go, the idle vacuum is not important for EFI injectors.
Good luck!
Ray
I agree on the pricing, I have already bought the two carbs and they were 200 apiece remanufactured by holley from summit racing with a polished zinc coating(Part number 65-4412s or just 65-4412 for non-zinc coated). I am just waiting to take delivery of them. Here is a pic of it.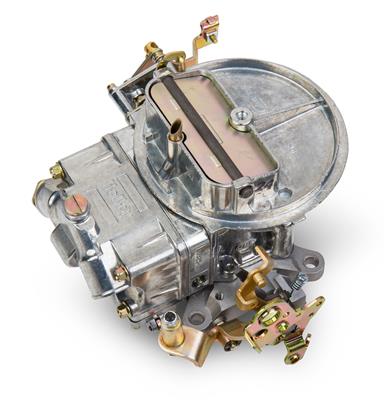 They have a throttle diameter of 1 11/16" (Approx 42mm).
I have do disagree on adjustability though the ones I ordered are basically just one of the 4150 series carb cut in half. 4 screws remove the float bowl and the jets and the power valve are staring you in the face.
It is interesting you mention the idle vacuum having built several race cars and having to tune holleys 4bbls on low vacuum car motors I do know quite a few tricks in that area but when you say low vacuum signal could you tell me what you experience has been as to exactly how low your manifold vacuum was. If it is to low along with some "tweaking" i will also need to change power valves as well.
I had actually thought about EFI using something along the lines of a mega squirt system but financially the carbs set-up will be so much cheaper (my grand total should be about 500) and less tuning problems for the next major mod after i get them on and running. the next major mod is to actually twin turbo it as a blow through application. I have access to some little bitty cute turbos that a friends shop uses on 500-750cc quads and I have done blow through carbs in the past but that is another thread and i need to get all the bugs worked on a naturally aspirated version first.
Ok, removing this float bowl is really easy. So forget about my comment on tuneability. I was thinking of webers where You can access the jets without opening anything, but the float bowl is really no problem.
The low vacuum...I don't know exactly how low it is in psi or mmHg or bar, but it is quite low compared to "cold-blooded" car engines. I would estimate it is about the same as You get in a V8 with radical crane cams. My Mustang also used to have quite rough idle.
The GL carbs have a pilot fuel jet behind the butterfly to get some fuel in when idling. Maybe You should set the holleys' idle circuit quite rich.
Good luck and let us know how it works out! I'm sure it will!
Ray
admin
Administrator


Posts: 7,880
Joined: Jan 2006 Location: Leamington, Ontario Bike: 1984 Aspencade/yellow with black trim
I'm very anxious to hear how the dual Holleys work out. It should prove to be interesting to get the jetting and the power valve right on but at least this Holley model is very tuneable. Please send some pictures as you go along.
Ed (Vic) Belanger - 1954-2015
Founder of gl1200goldwings.com


Users browsing this thread: 1 Guest(s)