Adjustable brake/clutch levers
SilverDave
Member


Posts: 8
Joined: Aug 2014 Location: Vancouver, BC Bike: 1985 GL1200 aspy, Blue
Did any supplier EVER make any adjustable brake / clutch levers for the GL1200 ??

( Age is slowly sneaking up on me )

A metal specialist friend offered to " Heat and bend " them for me but thats sorta a one-way street ....

SilverDave
bs175dths
Expert


Posts: 1,373
Joined: Jun 2010 Location: Sunny, Southern California Bike: 1984 Interstate
I am not aware of adjustable hand levers for the Goldwing series.
The Harley-Davidson folks have a reconfigured hand lever which allows a smaller span of the hand to operate their controls.
The lever is not adjustable, per se, it just makes it easier for the smaller hands.
So maybe looking at what they have to offer may give you a direction (and terminology) in which to search.

I hope this helps.

Ride On
enjoying the view from the saddle....... due mainly to the people and information found within this site
WingMan71
Member


Posts: 131
Joined: Nov 2007 Location: Atlanta, GA Bike: 1987 GL1200A Black/Silver
The GL1800 Gold Wings come stock with adjustable brake and clutch levers. The levers have a small dial on them at the pivot point. The dials have 5 positions marked on them, 1 though 5. Each setting changes the distance between the lever and the hand grip when the lever is at rest.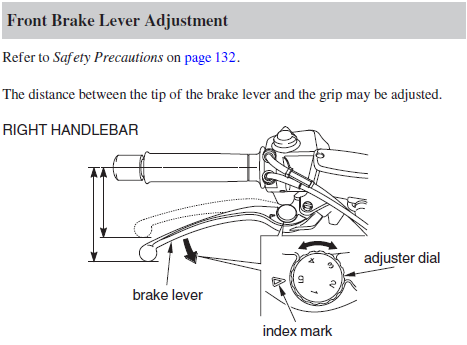 I have small hands so this is a nice feature.
That said, I have never seen these available for a GL1200, even from aftermarket manufacturers.
***
'87 GL1200A - Black/Grey
'06 GL1800 - Arctic White
'81 CB750C - Blue/Blue
U.S. Navy SWO (1967 to 1976)
SIR tricky
WISE AND HELPFUL MODERATOR


Posts: 4,305
Joined: Dec 2006 Location: Waterford, Ontario Bike: 1985 Aspencade, Satellite Blue
Nope, I think to have the full capacity of the lever it requires that the lever start in the position it is set.

Even if you bend the lever to accommodate small hands one might not have full braking capacity etc
The only stupid questions are the one's that are not asked.


bs175dths
Expert


Posts: 1,373
Joined: Jun 2010 Location: Sunny, Southern California Bike: 1984 Interstate
SIR Tricky is correct when it comes to hydraulic systems, like those found on our GL1200's.
If it is cable operated, this adjust ability is possible and I believe has been used for years by the folks who ride off-road.

On some previous bikes I have ridden, I have had to start pulling the lever with my finger tips, and slide the lever to under the first knuckle before I could really get a handle on the control. (sorry about the pun)

The other thing you can try is to put the handlebar at the first knuckle of your thumb when you need to pull the lever in.

In either case, it will take practice (bummer you have to ride) in order for you to get comfortable with the operation of the levers.

Believe me, if you really want it, you can achieve it.

I grew up left-handed, during a time when being left-handed was a bit of a challenge.
You cope and make adjustments, to get what you want.

-Ride On
enjoying the view from the saddle....... due mainly to the people and information found within this site
Users browsing this thread: 1 Guest(s)