FTO13
Member


Posts: 104
Joined: Mar 2007 Location: Bike:
The time has come to offer up for sale my 1986 Blue/Blue GL1200 Aspencade. It's been sitting on my back patio for over a year and she needs someone to get her back on the road. 104K miles (mostly highway), Cosmetically in very good shape. Full Progressive suspension installed, Dunlop E3's, heel/toe shifter, adjustable passenger footrests, CB radio, compressor.
Last trip to shop the mechanic discovered that the rear spline is worn about 60%. I was unable to get her started at last attempt and found that the clutch has no resistance. (Doesn't seem to be disengaging)

Will include motorcycle jack.

You can see photos at my album here:

<!-- m --><a class="postlink" href="http://gl1200goldwings.com/gallery/menu.php?gallery=members&album_id=126">http://gl1200goldwings.com/gallery/menu ... bum_id=126</a><!-- m -->

Asking $1800 for her

Shoot me a PM if interested.

Thanks for looking and your interest.

Cheers,
Kev
Forever The Optimist
1986 Blue/Blue Aspencade
Little Elm, Tx
"Go Lobo's"
Granpah
Expert


Posts: 922
Joined: Jun 2009 Location: St. Louis, MO Bike: 1985 Aspencade (tan/brown)
It's tempting but my wife would kill me ... at least.

Try bleeding the clutch 'cause air or water in the line could prevent disengagement.

Looks like a great machine ... sigh.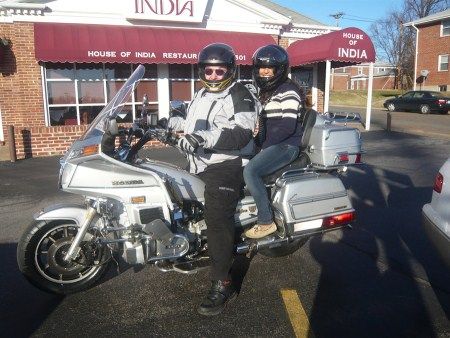 " ... If you have an idea and I have an idea and we exchange these ideas, then each of us will have two ideas." ~ George Bernard Shaw (1856-1950)
unionjack
Senior Member


Posts: 689
Joined: Sep 2009 Location: Bike:
Just bleed the clutch line, install a 1500 rear end and wheel for around $100.00 from a trike dealer, and you are good to go.
'RIDE TO BE SEEN'
:d
Most common quote from a cager after
killing
a motorcyclist.
"I never saw him"
instead of
"I never looked for him"
.
admin
Administrator


Posts: 7,880
Joined: Jan 2006 Location: Leamington, Ontario Bike: 1984 Aspencade/yellow with black trim
What a super deal for a member here. I hope she goes to a loving home.
Ed (Vic) Belanger - 1954-2015
Founder of gl1200goldwings.com


Users browsing this thread: 1 Guest(s)