Sgt Dave
Senior Member


Posts: 353
Joined: Jan 2007 Location: Canton Georgia USA Bike: 1984 Interstate, Pearl Siren Blue
If you wern't on the other side of the world I'd come do it for you. Takes about 20 minutes, not much of a headache at all.
Remember, No matter where you go...There you are!
Here is where I have ridden my 1984 GL1200I
I completed the lower 48 states in August 2009, riding the whole way with my Dad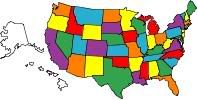 Users browsing this thread: 1 Guest(s)