Has anyone experience a flat tire while riding your Wing?
wingandaprayer
Senior Member


Posts: 699
Joined: Sep 2008 Location: Bike:
Tube type tyres go flat fast when you get a nail puncture. It's been a while since the last puncture I've had on a knobby tyre machine but yesterday morning I just hit cruising altitude at about 60mph on my KLR on the gravel road north of the home place when I had a nail puncture the rear tyre... back end goes this way and that - she doesn't want to answer the helm - it's actually kinda fun once it registers it's not a full on rear wheel lockup wer're gonna crash...
Anyone experience a puncture at speed on their Wing? Do our tubless tyres take longer to go flat?
Maybe this is an overlooked safety aspect of car tires? *-
robdavspa
Member


Posts: 206
Joined: May 2010 Location: Bike:
Yeah, I had two front wheel flats on my original 1982 Wing. Both were a Pirelli tire (same one). First was in a parking lot due to a nail, the second was at speed and due to the plug not holding in the tire. My fault for running it like that. Mushy steering is the first warning. A full blow-out would be different.
Bob
unionjack
Senior Member


Posts: 689
Joined: Sep 2009 Location: Bike:
Precisely why so many riders have gone 'to the dark side'.

Meaning a runflat car tire on the rear wheel.

We have lost far to many riders and/or their wives due to blow outs or delamination of rear motorcycle tires on Goldwings.
'RIDE TO BE SEEN'
:d
Most common quote from a cager after
killing
a motorcyclist.
"I never saw him"
instead of
"I never looked for him"
.
neoracer
Super Moderator


Posts: 2,570
Joined: Jul 2007 Location: Hancock,MD Bike: 87 Aspy,86 SEI,85 LTD
had several rear flats last summer,first one was on rush hour traffic going real slow,5-10mph or less and at first it just felt squirmy until i realized that i was sitting 3" closer to ground,2nd/3rd i felt the rear of bike starting to wander and pulled off road,4th time was at 100kph when the inside patch blew out and it was a tank slapper since the rear tire lost the bead and it was like years ago when i had a tube tire blowout,no fun especially since i am 600 miles from home ,luckily was following two forums members who turned around and came to my aid,tow to sos motorsports who fixed me up with a new tire and got me on my way
worst thing about a flat rear tire is that you cant put it on sidestand and onto centerstand u had better have some help(alot),especially if you are packed up for a trip
1987 Aspencade 129K
1986 SEI 93K
2014 Tri-Glide HD 17K

Hancock,MD
unionjack
Senior Member


Posts: 689
Joined: Sep 2009 Location: Bike:
Still the nice thing about a GL1800 is you can lay her down on the right side, extend the center stand, then undo the lug nuts and lift off the rear wheel easier than a car wheel.

Now ride into town as a passenger, get a new tire mounted, and then return and install it back onto the bike again.

This only takes a few minutes to remove and reinstall the wheel using this method.
'RIDE TO BE SEEN'
:d
Most common quote from a cager after
killing
a motorcyclist.
"I never saw him"
instead of
"I never looked for him"
.
Michelin has developed an air-less.
just wonder what it would feel like to lean one in a turn. :-SS
Oldsmores
Member


Posts: 33
Joined: Dec 2009 Location: Bike:
Had my first flat last year, coming back from a camping trip with my wife on the back. Luckily it was a slow leak and no big excitement. Tried a can of fix-a-flat, then a plug, but the tire had a huge bubble at the plug when I inflated it. Rode on it very slowly to a Victory shop that happened to be nearby and they ordered me a new tire. Major PIA, since it was 2 hours from home, but it could have been much much worse.
Mark
Walworth, NY
staijo
Member


Posts: 90
Joined: May 2008 Location: Bike:
A flat tire on a bike...
The words, "Oh my god, Oh my God, I'm gonna die!" come to mind. Usually I end up pulling some part of the seat out of my rear...
8-X
sparky65
Member


Posts: 187
Joined: Feb 2010 Location: Vancouver Island BC Canada Bike: 1985 GL1200 LTD
Had a flat while riding last summer between Tim buck two and nowhere land 80 miles North of Terrace BC. We had just been at a Crabfest in a place called Kincolith (first nations village) and the bike squirmed kinda weird going up a long hill, hard to steer. I turned to the wife and said "How many Crabs and Hamburgers did you eat?" That got me a Bonk on the top of my helmet :d Went back to the Village scrounged for a 12v airpump and finally found one,pumped her up,crossed my fingers and headed for the next Village "New Aiyansh" where there was a small gas station (about 40 miles away)checked the pressure along the way,we made it all the way home without pumping it again. Now I carry a 12v pump and a tire plug kit .There was a 2" wood screw in the tire, I replaced it with a new Dunlop E-3

Ya just never know when its goin to happen so it pays to be prepared,Murphy's Law says it'll happen when your nowhere near any kind of services...right :YMSIGH:

\:d/ \:d/ \:d/
Robert
KnoxSwift
Member


Posts: 201
Joined: Jun 2010 Location: Bike:
I tell you, I'm glad I have roadside assistance this year.
Towed home both times.
2 flats and we are only 1 month into the riding season. First flat was a nail/screw. Second flat was a bad valve stem.
I'm getting pretty tired of removing my rear wheel all the time this year. I normally go through 2 sets of tires a season and that's bad enough I'm looking at 4 changes minimum if I get no more flats, LOL!
At least my flange splines are well greased all the time!
#10 05-30-2011, 06:40 AM,
neoracer
Super Moderator


Posts: 2,570
Joined: Jul 2007 Location: Hancock,MD Bike: 87 Aspy,86 SEI,85 LTD
had 4 flats last year all within a couple days,didn't have a good repair kit with me,but now carry this
<!-- m --><a class="postlink" href="http://www.stopngo.com/products/Pocket-Tire-Plugger-plus-CO2-Inflation.html">http://www.stopngo.com/products/Pocket- ... ation.html</a><!-- m --> plus a small 12v tire inflator just in case the bike compressor throws a fit

did have gwrra rescue which towed me three separate times(dont ask) but now carrry the rescue plus,for anybody that doesn't know the plus has 100 mile towing plus its just not for your cycle but will tow your car or truck,my AAA membership which will not tow my motorcycle and have had for 20 years will not be renewed this year,saving me the cost of my gwrra membership and rescue plus each year
1987 Aspencade 129K
1986 SEI 93K
2014 Tri-Glide HD 17K

Hancock,MD
#11 05-30-2011, 12:23 PM,
Shells Bells
Member


Posts: 13
Joined: Nov 2010 Location: Bike:
My front tire went flat on me a month or so ago near the beginning of a 200 mile ride. It was a gradual thing - the front end felt heavy and turns were getting harder to do. Luckily the worst of it happened when I slowed down to make a sharp right turn. Suddenly I had all I could do to hold onto the handlebars - they were shaking back and forth so hard. The guys behind me were amazed I held on and didn't go down. When they pulled up and asked what was wrong, I pointed to my front tire - it was nearly down to the rim. One guy ran ahead to tell the others what had happened; the other rode to a gas station/convenience store about 2 miles back and got Fix A Flat. The FAF put enough air in the tire so I could ride it back to the station and inflate the tire properly. I rode the rest of the ride without a problem. (Thankfully!!!)

The reason for the flat? My boyfriend had just put on a 90 degree valve extension the night before ... and it had leaked. Well, once we got the proper air pressure into the tire, we took the extension off. My shoulders hurt for about a week after their workout.

Now we only use the valve stem extension for filling the tire; we remove it right after doing so. (I wish it wasn't so difficult to fill those darn tires!!)

BTW, the guy who rode down to the gas station and got the Fix a Flat was killed about two weeks later. He was hit as he was making a right turn by a woman on her cell phone who decided to go around him on the right. She knocked him off his bike and then ran over him. :-(

~Michelle
#12 06-26-2011, 06:27 PM,
Shells Bells
Member


Posts: 13
Joined: Nov 2010 Location: Bike:
Darn, that was meant to be a sad face at the end of my post.

BTW I had taken two nice pix of the guy who was killed and they used them at his memorial service.

~Michelle
#13 06-26-2011, 06:28 PM,
judd9571
Member


Posts: 81
Joined: Apr 2011 Location: Bike:
Glad your tire situation wasn't worse and sorry to hear about your friend. What part of Upstate are you from? I'm in Buffalo.

-Matt-
#14 06-28-2011, 07:05 AM,
Sgt Dave
Senior Member


Posts: 353
Joined: Jan 2007 Location: Canton Georgia USA Bike: 1984 Interstate, Pearl Siren Blue
I caught a nail in my back tire in Buffalo NY a couple of years back when visiting the falls. It did not go flat till I was on 90 heading toward Rochester. Got it plugged and made it into Rochester when the plug blew out and she went flat fast. Got it plugged again and made it to a motel. The girl at the front desk found out about my problem and called her Dad who rides Hondas. He suggested a shop in town. I called the next morning and they had a tire...Bridgestone whitewall :roll:

This shop was Harley on one side and Honda, Yamaha, Suzuki, Kawasaki on the other with the repair shop in the middle. I limped it to the shop in the rain and got the tire. I got to watch the guy through a window and he knew his stuff, got it replaced in less than an hour and greased the splines after cleaning them very well. Cost $160, and well worth it. The real sad part was the Dunlop that had the nail had less than 3000 miles on it :evil:

Once they were done the shop manager suggested and alternate route to 90 which turned out to be a nice scenic ride that paralled 90.
Oh, I wound up getting about 12K miles out of that Bridgestone before I replaced it this spring with new Elite 3's. It was a pretty good tire except for the whitewall.
Remember, No matter where you go...There you are!
Here is where I have ridden my 1984 GL1200I
I completed the lower 48 states in August 2009, riding the whole way with my Dad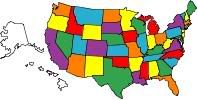 #15 06-28-2011, 10:03 PM,
Users browsing this thread: 1 Guest(s)