Carb Rebuild - Special Tools or Tips?
scty_p
Member


Posts: 127
Joined: Apr 2008 Location: Bike:
I've got my rebuild kit from Randakks as well as Howard's book. I've been going over my Honda service manual and I'm just about set to tear into this project. Can anyone suggest any special tools that I might need to make life easier? I picked up a sync tool from Morgan Carbtune, so that is out of the way. I've also got some screen sieves and a large roasting pan from the local dollar store so I can boil the carbs in distilled water to get them cleaned up. Any other special goodies I should need?

:YMPRAY: Please feel free to wish me luck.
Scotty P
Grafton, Ontario, Canada
1997 GL1500 SE
Gone, but not forgotten:
1985 GL1200I
1985 GL1200A
My Red Knights Chapter
My Professional Page
Facebook
&
LinkedIn
Granpah
Expert


Posts: 922
Joined: Jun 2009 Location: St. Louis, MO Bike: 1985 Aspencade (tan/brown)
A very good investment of time and money is to buy and view (more than once)
Randakk's Honda GL1000 Carb Rebuild Video
Although Randall Washington (aka Randakk) rebuilds a GL1000 carb in the movie, his systematic approach and practical suggestions (none of them expensive) are classic for rebuilding to ANY carb. He goes over the does and don'ts, and emphasizes the important stuff from which parts MUST be replaced to how exactly to check everything against the Honda factory's specs -- and, last but not least, safety all along the way (especially with handling cleaning solvents).
Since you already just bought the Randakk carb kit maybe they'd knock off the ten bucks from the $39.99 which they do if you buy them together.
Oh, and by-the-way, GOOD LUCK!! :YMHUG: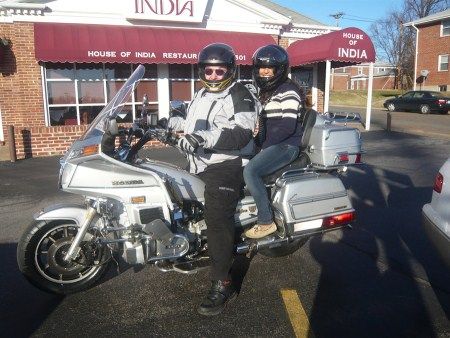 " ... If you have an idea and I have an idea and we exchange these ideas, then each of us will have two ideas." ~ George Bernard Shaw (1856-1950)
A good set of spectacles and massive quantities of compressed air.
Possibly Related Threads…
Thread
Author
Replies
Views
Last Post
Carb Rebuild
marksaunders
12
1,949
05-17-2014, 02:24 PM
Last Post: marksaunders
84 1200 carb rebuild
kywinger
1
579
04-25-2013, 02:39 PM
Last Post: bs175dths
Carb still pops after rebuild
5
1,096
10-23-2011, 04:49 PM
Last Post: MRGONE
carb rebuild
arkansassuperdrafter
4
615
09-14-2010, 01:27 PM
Last Post: bs175dths
1985 GL1200 Carb. Rebuild
49
7,870
08-04-2009, 01:19 PM
Last Post: admin
Time for a Carb rebuild
14
2,425
08-26-2007, 08:16 PM
Last Post: Guest
Users browsing this thread: 1 Guest(s)