Summer's Over For Me - Blown Head Gasket
edbikerii
Member


Posts: 189
Joined: Jul 2008 Location: Bike:
Hi Guys,

Unfortunately, she didn't even make it halfway through this beautiful Labor Day Weekend.

So, over the past 13 months I've had occasional hot-running problems, but never really got so hot that it got into the red. Typically when running hot it got up to maybe 60%, whereas I consider 50% normal on my Interstate's analog gauge.

I started noticing this after I repaired the faulty chrome carb tops with OEM units. I was finally able to get the revs up high, so I'm sure that made the head gasket problem more obvious.

When riding around in stop-n-go traffic or lots of lights, she would run really hot, and the fan would not be able to get the temps down unless I managed to get on the highway, at which time the temp would come down to around 33%. The coolant reservoir had plenty of coolant in it, and it wasn't even hot. When I got her home and opened the radiator cap, the coolant level was pretty low. I re-filled the rad with Prestone "All makes. All models" coolant. This seemed to fix the problem, for a while, anyway.

However, one day I did a little high-speed super-slab blast and I thought I smelled the sweet smell of anti-freeze a little. The reservoir looked good, but the bike did seem to be running hotter. I rode it a few more days, and sure enough, the fan was not able to bring down the temps when idling. So, I looked in the radiator again, and it was LOW AGAIN. So, I replaced the radiator cap, the hose between the rad and the reservoir, and re-filled the rad with Prestone again. Once again, she was fine for a while.

Then today, I did another high-speed blast, and once again smelled anti-freeze. I backed off, but she did seem to be running hotter, maybe 60% on the gauge. When I arrived at Bear Mountain, I stopped the engine but left the switch in the "on" position to keep the fan running and cool off the engine off. Then I let her sit for a few minutes while I admired the view.

When I got back, I started the bike, and white smoke started coming out of the exhaust. After revving her a little bit, the smoke slowed down to just a bit, but didn't completely stop. She started running hot pretty quickly, though. The oil was clean, not milkshake, so no coolant was getting into the oil.

Since the oil wasn't contaminated, I decided to high-tail it home so I could avoid having to get towed. Whenever the temp gauge got close to the red I pulled in the clutch and shut off the kill switch, letting the air flowing over the bike and radiator cool her off again. I'd coast down every hill like this, and only start the engine when going uphill or when I was going too slow in traffic, but I never allowed the temps to get into the red.

When I finally got her home, she was still smoking at idle, that sickly sweet smell of coolant, and the smoke would rise and disappear quickly, indicating that it was steam.

So, now I'm thinking that the head gasket(s) was starting to go all along. I believe that this was where the coolant was disappearring to (into one or more combustion chambers) before the gasket finally gave way even more today.

So, I'm dying to tear into her, but I cannot find the information about how to keep the cams from turning when the timing belts come off. Luckily, I hadn't replaced the timing belts just yet. My understanding is that you must keep the cams from turning when the belt tension is loosened, and this is difficult because at TDC on #1 some open valve is working to try to rotate the camshaft.

Can someone fill me in on the technique for holding the camshafts if I don't have the Honda tool?

Anybody know the best place to buy either a Honda OEM gasket kit, or a Fel-Pro gasket set?

Is there anything else I should do at the same time? I've read about the oil passage o-rings on another thread, and I'll be replacing the timing belts, but is there anything else I should do while in there?
1986 Honda GL1200 Interstate
You don't have to worry about the cams turnning. Put it on # 1 & tear it down. The left cam will usually stay put. The right cam will usually turn but it is just valve spring tension & will not hurt anything.

Poorboy
Ed Z
Senior Member


Posts: 652
Joined: Apr 2008 Location: Bike:
I'd consider replacing the t-stat and rad hoses as well... Your going to be right in the area ... Might even consider the fan switch too... All this stuff is over 20 years old (unless previously changed out)... I'd also clean out the port in the head that supplies oil to the lifters... This are can get clogged over the years...
<!-- m --><a class="postlink" href="http://rides.webshots.com/album/548151194FCZieQ">http://rides.webshots.com/album/548151194FCZieQ</a><!-- m -->
Ed Zogg
edbikerii
Member


Posts: 189
Joined: Jul 2008 Location: Bike:
I ran the engine for a couple minutes today, and noted that it is still smoking. However, I am no longer 100% clear on the smoke being solely water. Surely it dissipates within about 10-15 feet, which seems unlike oil, but the smell today didn't seem so sweet, but rather like either oil or fuel. I dunno.

So, I did a compression test with the following results:

1. 180
2. 170
3. 185
4. 190 - when I released the gauge pressure, lots of water/coolant squirted around.

Sure seems pretty good to me! I'm assuming that the 190 is because some of the combustion chamber volume is taken up with coolant.

Is there a way to diagnose further to be sure that all I need is a head gasket? I figured that the compression test would show a really low cylinder if I had ruined a ring or something.
1986 Honda GL1200 Interstate
edbikerii Wrote:Is there a way to diagnose further to be sure that all I need is a head gasket?
Not until you pull the head. Seems like just a gasket. Check this sticky.
<!-- l --><a class="postlink-local" href="http://www.gl1200goldwings.com/viewtopic.php?f=57&t=7070">viewtopic.php?f=57&t=7070</a><!-- l -->
edbikerii
Member


Posts: 189
Joined: Jul 2008 Location: Bike:
Yeah, the hot running came and went, but only happened after high speed, high rpm (heavy load) operation. Then I'd refill the system a little (cold), and it would be fine until next time. Finally the gasket blew yesterday.

So, I'm not clear on what you are saying in that other thread about the fibers going anywhere else in the system. How do you suggest cleaning them out of the system? Backflush? Should that be done before teardown?

Also, the head gasket kit comes with valve stem seals, correct? How does one go about finding a qualified machine shop to replace them? Is this the kind of thing I could just walk into a good, independent, parts store and ask them to do for me?

Thank you,

Ed
1986 Honda GL1200 Interstate
edbikerii
Member


Posts: 189
Joined: Jul 2008 Location: Bike:
Oh, and another question.

Head gaskets seem like a pretty common failure item on these GL1200 engines. Is there anything that we can do to prevent this? My recollection of Fel-Pro gaskets from Ford and Chevy engines is that they are not simply exposed fiber, but made up of something that is seemingly resin permeated or something to make it both waterproof and more "solid".

Is there any aftermarket gasket that is superior?
1986 Honda GL1200 Interstate
Once the heads are off, you'll see that the jugs are "free-standing". The entire water jacket is exposed. A little compressed air should do the trick. All aftermarket gaskets I've seen are cheaper in price than the Honda part. I've never heard of one being superior. They're generally cheaper for a reason........I'd stick with factory.
edbikerii
Member


Posts: 189
Joined: Jul 2008 Location: Bike:
Is Honda Parts Direct out of business or something? I tried their web page and they say that they are closed:

<!-- m --><a class="postlink" href="http://hondaparts-direct.com/">http://hondaparts-direct.com/</a><!-- m -->

Also called their phone number to ask, and it has been disconnected.

Nobody seems to have the Honda "Gasket Kit A" in stock anyway. I've tried Bike Bandit, Western HIlls Honda, HDLParts.com, etc.

I'll keep looking. Sold separately, the parts are so costly that they more than double the price of the kit.

Considering how often we hear about blown head gaskets on the GL1200, you'd think that Honda was still making plenty of money on selling these kits.
1986 Honda GL1200 Interstate
Check <!-- m --><a class="postlink" href="http://www.babbittsonline.com">http://www.babbittsonline.com</a><!-- m -->
Gasket Kit A seems to be available there.

Ken
#10 09-08-2009, 12:56 PM,
85GL1200I
Super Moderator


Posts: 1,266
Joined: Dec 2006 Location: Johnstown, Pennsylvania Bike: 1985 Gl1200I Blue
<!-- m --><a class="postlink" href="http://www.servicehonda.com/parts.html">http://www.servicehonda.com/parts.html</a><!-- m --> is a good source for parts also. They got my stuff to me in 4 working days, and they generally take 30% off of stealer list.

Do youself a favor and go with the Honda gaskets. They are coated, according to the Honda manual. The cheap gaskets are just that...cheap.

If you do the job yourself, make sure you clean both the jug and head surfaces really well. It can cause you both heartache and wallet ache if you don't. Ask me how I know :oops:

Good luck....the guys on here are terrific if you need help. I'll even throw in my 2 cents worth. :YMHUG: Don't be afraid of the timing belts and pulleys....I was the same way, once you get in there, just line up everything by the marks....I studied the entire thing from the Honda manual before taking it apart. Follow the book and it makes perfect sense.

Good luck....you don't have to be done riding for the year if you have the time to work on it.
A rainy day off beats a sunny day at work any time..................
#11 09-09-2009, 07:57 AM,
edbikerii
Member


Posts: 189
Joined: Jul 2008 Location: Bike:
What do you guys think of these gaskets? Do they look like they are high quality to you?
1986 Honda GL1200 Interstate
#12 09-14-2009, 08:39 PM,
The quality of a gasket can not be told from a picture or even from holding one in your hand.
If your comfortable with the gasket manufacturer great but if you have doubts go with a Honda one.

Ken
#13 09-14-2009, 09:35 PM,
edbikerii
Member


Posts: 189
Joined: Jul 2008 Location: Bike:
Well, I tried HDL, Bike Bandit (for OEM), Service Honda, Babbitt's Online, Western Hills Honda and a couple other vendors. None of them has the OEM gasket kit. The cost of all the OEM parts separately is absolutely ridiculous. The valve stem seals, at $8 each, would cost more than the entire set should cost according to MSRPs.

Service Honda's web site let me place the order online, but sent me an email two days later telling me that they are on back-order.

I had already ordered the Athena gasket set, and figured that if I was uncomfortable with the head gasket quality I would buy just the Honda OEM gaskets rather than wasting my cash buying each and every seal, o-ring, etc. from Honda.

The Athena gasket set arrived today. Frankly, I'm not seeing anything that makes me think there is a problem with the quality of the Athena head gaskets. According to the Honda Service Manual the head gaskets are "graphite-coated and do not require any sealant". The Athena are clearly graphite coated as well.

The Athena head gasket is fiber with metal fire rings around the combustion chambers, and a dark-grey/silvery graphite coating on both sides. There are no sealant rings around water or oil passages.

Can someone who has used Honda head gaskets tell me if this matches the construction of the Honda parts?

Has anyone here who has actually used the Athena gaskets had a problem with them that they could not attribute to some other issue?
1986 Honda GL1200 Interstate
#14 09-14-2009, 09:59 PM,
Granpah
Expert


Posts: 922
Joined: Jun 2009 Location: St. Louis, MO Bike: 1985 Aspencade (tan/brown)
I don't know a thing about head gaskets, BUT I've always had very good results with the parts dealer Niehaus Cycle Sales who has OEM parts at fair prices and fast delivery.
http://honda.niehauscycle.com/fiche_section_detail.asp?section=146614&category=MOTORCYCLES&make=HONDA&year=1986&fveh=3448
Good luck with your head gasket problem.
=========== About timking belts ======
I changed the timing belts on my two GL1000s but no yet on my GL1200 (just got it)
Below are some links to useful timing belt posts:
There's a discussion on changing timing belts at two sites which you may already know:
<!-- m --><a class="postlink" href="http://www.tholt.com/gltip.html">http://www.tholt.com/gltip.html</a><!-- m -->
and
<!-- m --><a class="postlink" href="http://www.geocities.com/SouthBeach/Plateau/2800/gl1000.html">http://www.geocities.com/SouthBeach/Pla ... l1000.html</a><!-- m -->
plus a changing timing belt tutorial with lots of photos at
http://www.goldwingfacts.com/forums/forum1/17422.html
Best wishes,
Granpah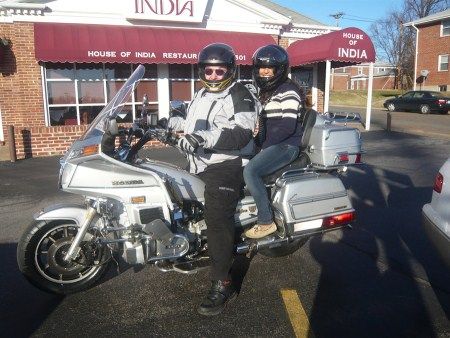 " ... If you have an idea and I have an idea and we exchange these ideas, then each of us will have two ideas." ~ George Bernard Shaw (1856-1950)
#15 09-15-2009, 01:29 AM,
Possibly Related Threads…
Thread
Author
Replies
Views
Last Post
2nd&3rd Opinions Please? Head Gasket
KnoxSwift
16
2,620
07-12-2013, 02:54 PM
Last Post: bs175dths
Altitude, detonation, & head gasket stress
wingandaprayer
2
896
06-23-2013, 01:34 PM
Last Post: elcamino121
Head Gasket -- My turn this time
PanMan75
10
1,218
01-26-2013, 06:24 AM
Last Post: PanMan75
Head Gasket Thread - Couldn't put it off any longer
desertrefugee
14
1,928
12-15-2012, 01:34 PM
Last Post: desertrefugee
Aftermarket Head gasket failure.
Feetup
5
878
07-26-2012, 08:03 AM
Last Post: chorvath
Head Gasket
Ranbo1
5
827
03-19-2012, 06:36 PM
Last Post: 85GL1200I
HEAD GASKET - HEAD BOLTS
bs175dths
11
1,835
08-30-2011, 10:35 AM
Last Post: bs175dths
Blown Head Gasket- Make sure heads are not warped??
xmotondurorider
4
832
06-22-2011, 03:32 AM
Last Post: 85GL1200I
head gasket replace 85 1200 ltd
8
1,432
11-21-2010, 06:11 PM
Last Post: 85GL1200I
head gasket r&r
rrboomer
7
983
10-19-2010, 06:07 PM
Last Post: rrboomer
Users browsing this thread: 1 Guest(s)