WHAT IS USUALLY HOOKED UP TO THE AUX TERMINALS ?
Granpah
Expert


Posts: 922
Joined: Jun 2009 Location: St. Louis, MO Bike: 1985 Aspencade (tan/brown)
The '85 GL1200 Interstate is my third 'Wing (after '78 and '79 GL1000s) which had nothing (ever?) wired to the Auxilliary terminals at the main fuse block.

I added lower fairing built-in lights (called by some cornering or driving lights -- I think originally from a 1500). I had exchanged the two original 50 watt halogens for two 25 watt bulbs (still gives good light with half the load). I read somewhere NOT to wire extra lights to the Auxilliary terminals -- but rather run a separate, new line (with fuse and relay) from the battery to the extra lights. That's what I did.

As I recall, there's a 10 AMP fuse in the Auxilliary fuse slot worth about 120 watts for something. So then, what kinds of extras are usually added to it (radio? CB? intercom?). I figure that's where I'll wire some extra low energy amber (front) and red (rear) LED side markers and fork lights.

Anything else?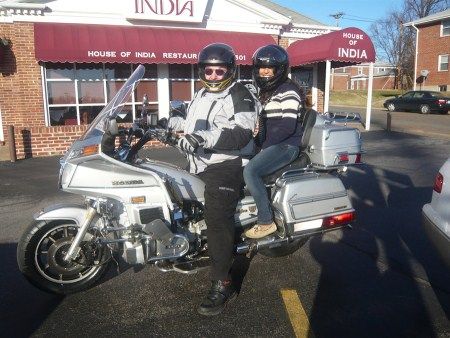 " ... If you have an idea and I have an idea and we exchange these ideas, then each of us will have two ideas." ~ George Bernard Shaw (1856-1950)
neoracer
Super Moderator


Posts: 2,570
Joined: Jul 2007 Location: Hancock,MD Bike: 87 Aspy,86 SEI,85 LTD
using the aux terminals to supply power for relays is also a good choice,along with gps,ipod

plus or minus its a key off connection
1987 Aspencade 129K
1986 SEI 93K
2014 Tri-Glide HD 17K

Hancock,MD
SIR tricky
WISE AND HELPFUL MODERATOR


Posts: 4,305
Joined: Dec 2006 Location: Waterford, Ontario Bike: 1985 Aspencade, Satellite Blue
I use the ACC for powering relays, driving lights, heated clothing, light bar etc, cruise control, air horn.
My GPS and mp3 player are fused but live all the time,
The only stupid questions are the one's that are not asked.


Users browsing this thread: 1 Guest(s)