Granpah
Expert


Posts: 922
Joined: Jun 2009 Location: St. Louis, MO Bike: 1985 Aspencade (tan/brown)
Quote:Granpah was the only one that suggested drilling a hole in the cap but I'm glad we all agree that it's a bad idea.
Vic is right and I'll have to try making amends for my mistake. Here goes with a quote from someone with more technical know how:
Commenting on a gas tank venting system
(in late model Triumph motorcycles), a man named Forchetto, listed as a Managing Director (Manufacturing) wrote:
"There's a check valve half way down that consists of a ball one-way valve. This is in case the bike is dropped to prevent fuel running out onto the road. The little valve could be gummed up in the closed position. Try blowing and sucking down the hose to see if it's operative.
These check valves have been used for some time on all bikes, it's just that they're usually fitted within the gas cap, and no hose is involved. You can tell if you have one by shaking a gas cap close to your ear, you'll hear the ball rattling.
[emphasis added]"
Based on this, the advice to Tim would be try to unclog the check valve in the gas cap or replace the cap with a new or good used one.
On eBay under
Honda Goldwing GL1200 FUEL TANK CAP
there are several used ones listed priced between $4 and $20. The Sellers should agree that the check valves are working before selling them.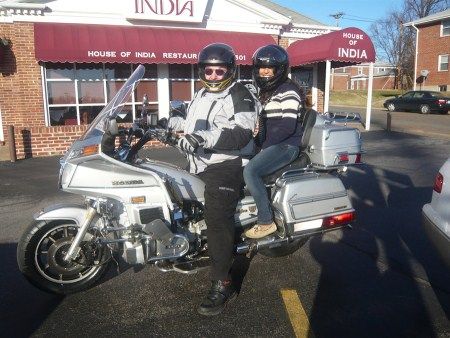 " ... If you have an idea and I have an idea and we exchange these ideas, then each of us will have two ideas." ~ George Bernard Shaw (1856-1950)
#16 08-08-2009, 02:49 AM,
admin
Administrator


Posts: 7,880
Joined: Jan 2006 Location: Leamington, Ontario Bike: 1984 Aspencade/yellow with black trim
Thanks for setting the record straight on this important issue Granpah. :YMAPPLAUSE: :YMAPPLAUSE: :YMAPPLAUSE: :YMAPPLAUSE: I just hate it when I have to fess up to a blunder I've made on this site but getting the information right for the membership is far more important than being personally correct. Besides, not one of us can possibly know everything, everytime and that includes me as well.
Ed (Vic) Belanger - 1954-2015
Founder of gl1200goldwings.com


#17 08-08-2009, 07:38 AM,
Users browsing this thread: 2 Guest(s)