hoofman
Member


Posts: 96
Joined: Aug 2007 Location: Bike:
No tunes no fun, looking to install a radio/cd player on the bike. Was going to go the radio/tape way but remember the hassel of tapes from the good old days. Has anyone sucessfully installed a system designed for a car - there are so many to choose from - I dont think the radio side would be a problem but I am concerned wether the cd will work with the bumps on the front end.
Honda must have solved this with the other bikes after they built ours.
Thanks.
Bob & Lori.
1984 1200GL INTERSTATE.
1994 1500GL ASPENCADE
BRUNSWICK NY
WHATS STOPPING YOU FROM RIDING TODAY?
SIR tricky
WISE AND HELPFUL MODERATOR


Posts: 4,305
Joined: Dec 2006 Location: Waterford, Ontario Bike: 1985 Aspencade, Satellite Blue
You can use an adapter to put a small auto or marine unit in your bike. It might be smart to try a radio with a USB socket in it, you could just play mp3's from a memory stick

JVC KD-G820

is one model, but don't know the physical size of it
The only stupid questions are the one's that are not asked.


Sgt Dave
Senior Member


Posts: 353
Joined: Jan 2007 Location: Canton Georgia USA Bike: 1984 Interstate, Pearl Siren Blue
I installed an auto radio on my '84 Interstate a few years ago. I used an adaptor from Sierra Electronics, cost me $25.00. I tried a cd player, but it skipped on bumps like you are concerned about. It was a cheap unit though and that may have had something to do with it. I have also seen some of the newer units that have built in anti skip for the in-dash units. I wound up putting in an AM/FM/Cassette with an auxillary input for my Sony Mini-Disc player. The Sony holds 5 hours of music on one disc an does not skip at all. An MP-3 player would accomplish the same thing.

I have seen someone else who added a 6 disc changer in a saddlebag that was hooked to the stereo and he had no issues with skipping. That may be an option you could explore if you don't mind losing some storage space.

You have some options, explore them and see what works for you.
Remember, No matter where you go...There you are!
Here is where I have ridden my 1984 GL1200I
I completed the lower 48 states in August 2009, riding the whole way with my Dad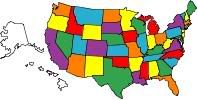 AZWINGER
Member


Posts: 84
Joined: Aug 2007 Location: Bike:
I also need to replace mine. Could some of you post some pic's of what you have.
Thanks
AZWINGER
85 GL1200I
Goodyear,Az
Users browsing this thread: 1 Guest(s)